> ">
Adventures on the Road with Mexico Lindo, September 2010


When we last spoke with everyone on the Facebook store page, we had just arrived in Mexico City on the eve of the Bicentennial...just in time to see all major thoroughfares closed and walking was the only option as the entire city prepared for a parade and a celebration such as the world had never seen! Already a little delirious after minimal sleep before our 6:00 am flight that morning, we walked the Reforma almost seven miles without being able to cross back to the side where our hotel was, and were rewarded with a brief glimpse of what may have been one the amazing parts of the entire parade: giant marionette Revolutionary soldiers marching and saluting in perfect unison: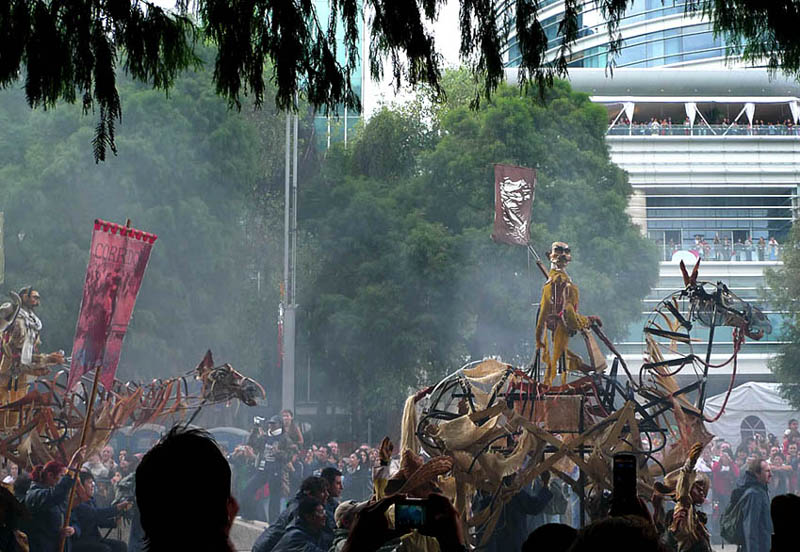 We admit it, we fell asleep long before the grito! But we had to be off first thing in the morning to head to Taxco before the mornings' military parade route got too difficult to navigate. We arrived in Taxco to find our way to the zocalo and our hotel blocked by yet another parade, but found plenty to distract us at the bottom of the steep hills. The view of endless rows of patriotic papel picado leading to the Plaza Borda and some finely embellished white mini bus taxis (aka "Burritos") was worth waiting for once we finally gained entrance.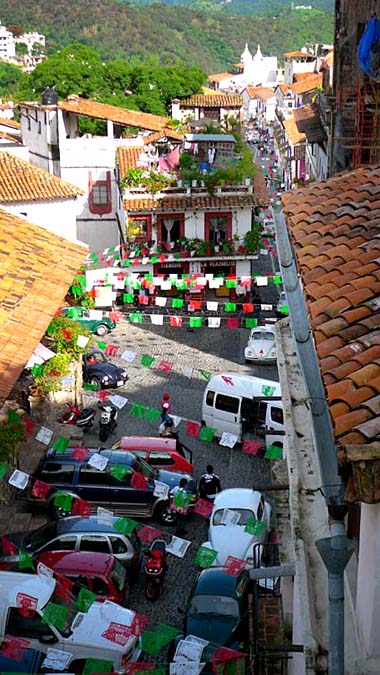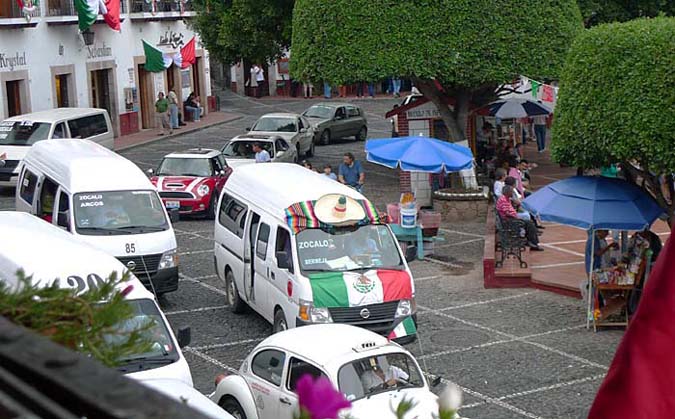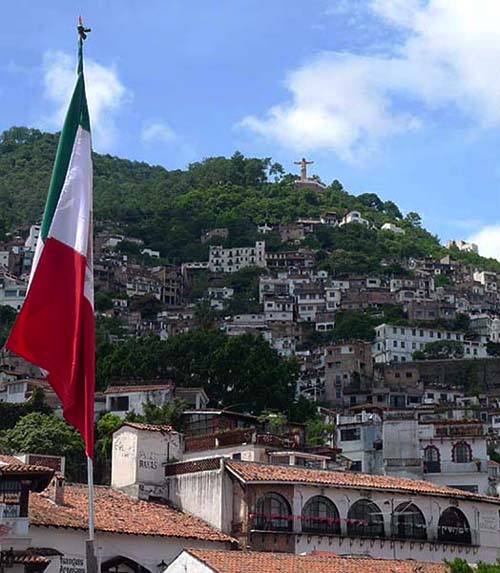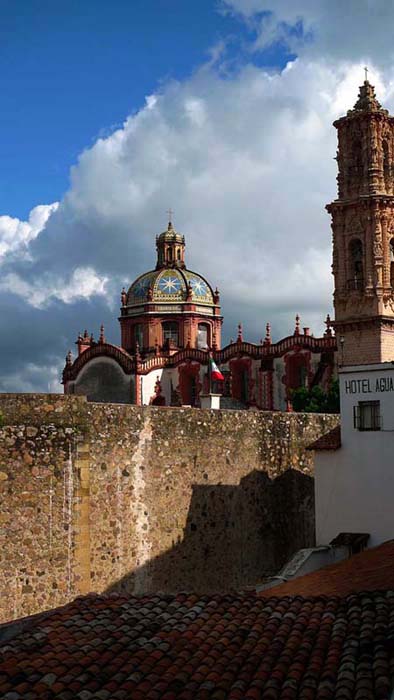 With the exception of a near-fatal slide down a slippery slope of steep stairs by Jean-Pierre (that left him miraculously unscathed, albeit very bruised!) in the hotel, two relatively uneventful days of beautiful pre-hurricane weather and kamikaze jewelry shopping ensued. Many wondrous new silver treasures await your shopping pleasure in this department; an example of a find along the way: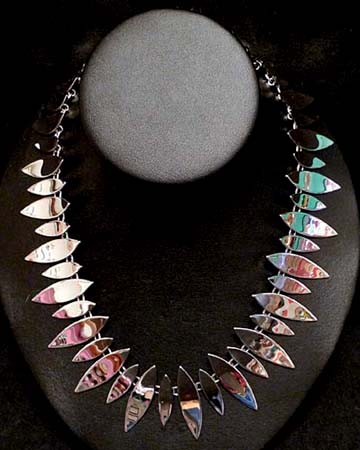 Next was a quick return to Izucar de Matamoros in Puebla to restock and visit with some longtime favorite artists. It was lucky that we arrived early and left on schedule because just a few hours after we left there, the torrential rains that followed rendered this little village built on top of many open channels of water impassable! We made our way next to Acatlan de Osorio in search of Maestro Pedro Martinez, famous for his beautiful burnished barro bruñido, most especially his peacock candeleros. And yes, some of those are on their way here now!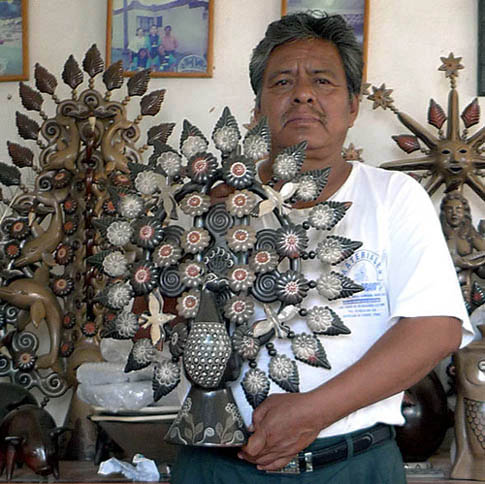 It was time to head on toward the old road from Acatlan toward Huajuapan de León, and from there to meet up with the super highway to Oaxaca. We had been told this road had been improved and were looking forward to bypassing hours of desolate hairpin turns that we had once traversed long ago. Alas, we realized that the new highway was a long way from being complete after enjoying it for all of five minutes before finding ourselves detoured and once again on the dreaded old road. And then the rains came: torrential rains that made it hard to see more than a few feet in front of you, for the duration of the trip. Four and a half hours later we were so relieved to see the last exit from the toll road and the "Bienvenidos a Oaxaca" sign and were amazed that we had actually almost made our time goal of arriving by 9 PM. But then all traffic came to an inexplicable halt and the rains returned with a vengeance. What should have been a twenty minute jaunt from there to our hotel turned into a vast 2 ½ hour detour in miles of bumper to bumper traffic through flooded back roads (if one could call them that) filled with a few feet of flowing muddy sewage water and holes large enough to bathe in. When at last we found our way to a main road again, the reason for all of the traffic became quickly evident; the roads throughout almost all of the city had several feet of water flowing freely through them and abandoned cars were everywhere, as this badly taken photo will attest: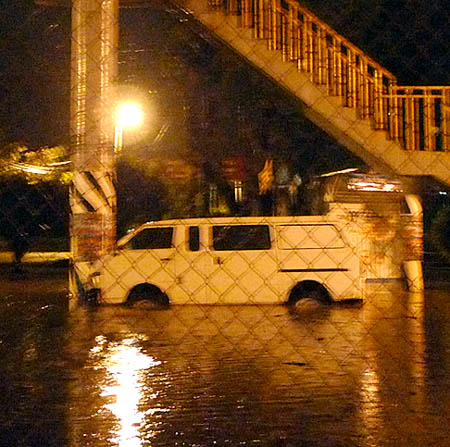 Jean-Pierre's expert driving and some Divine intervention got us through it all, however, and we made it safely to the hotel somehow. As difficult as that part of the journey was, we were certainly a thousand times more fortunate than many in Oaxaca, Veracruz and Chiapas who were so sorely affected by the rains that would continue through that week and the days afterward when returned to Mexico City. In fact, it's never too late to contribute toward the relief efforts there; you can find more information via the International Red Cross here.
No rest for the weary or hungry, Jean-Pierre was impatient to head out to Arrazola and San Martin Tilcajete first thing the following morning, and breakfast on the roadside on the outskirts of Xoxocotlan would turn out to be something that he regretted for the next two days. We had already spoken to our favorite artists from La Union and heard that their already sketchy roads were rendered useless by the rains and made arrangements to meet them in town another day. We didn't return to town until 9:30 pm, having stopped by to visit with and see woodcarvings from more than a dozen different families in both villages, planning to return in a few days and reenact the exact same punishing rounds to finalize our purchases. We had the next day and a half to do our around-town reconnaissance and pick up tin and other specialties, and also fit in trips to Santo Tomás Jalietza for textiles, Ocotlan for visits with the famous Aguilar families and also San Bartolo Coyotepec for barro negro. We have hundreds of woodcarvings in every size and animal imaginable due to arrive any day now and many are already here and gracing the store window.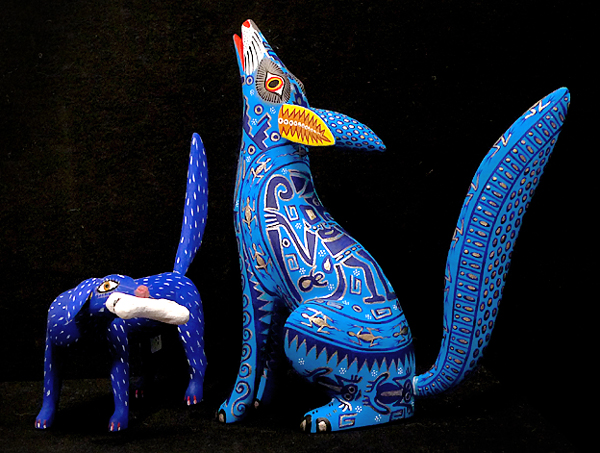 We did also find time one evening to fit in a beautiful dinner at Casa Oaxaca with Jacobo and Maria Angeles Ojeda and family. It had been ages since we had time together to talk and we were excited to hear of their plans for the future and the success of their stores and restaurant. Some incredible new pieces by them are yes, also on their way!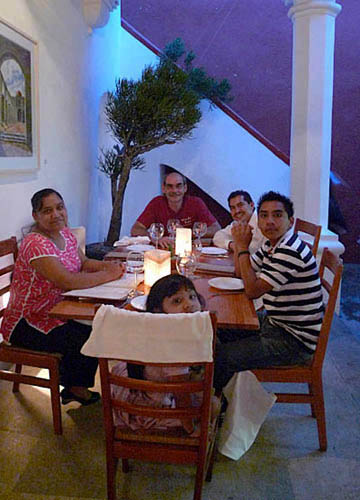 One evening, just when exhaustion and sickness were beginning to set in, we had the happy coincidence to run into one of those seemingly spontaneous street calendas that Oaxaca is so famous for, and were reminded once again why all that we do is ultimately worth it...to be in this magical place, so unlike any other!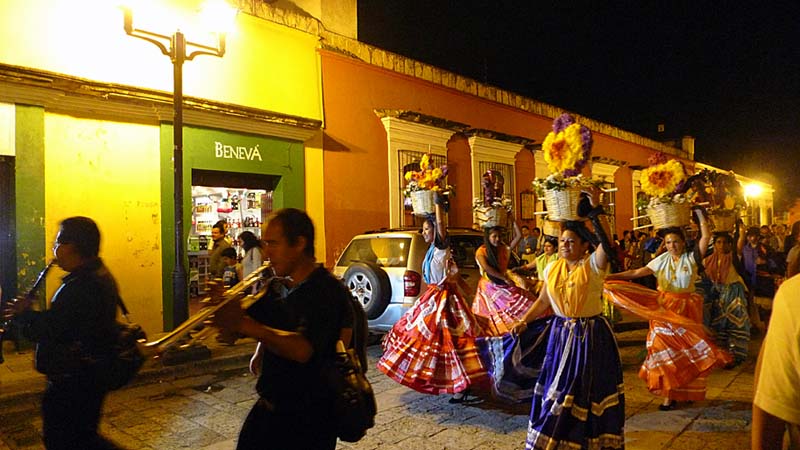 In the less magical realism of the day to day and year to year struggles of the oppressed poor in Oaxaca, the signs of La Lucha were everywhere present, as always. We found many artists raising their prices significantly in an effort to make up for years of hardship and lack of tourism since the troubles of 2006, which remain unresolved to this day. In the zocalo, the noble and brave Triqui women were encamped and on hunger strikes to raise awareness of their ongoing plight. Many have had to abandon their custom of wearing their signature bright red be-ribboned huipils in order to avoid being targeted or harassed by menacing looking unofficial officials in plain dress that lurk everywhere, observing their every move. We decided not to photograph them for this reason as well. The now famous graffiti and printmaking artists are still doing what they do best, and their work was evident in numerous places: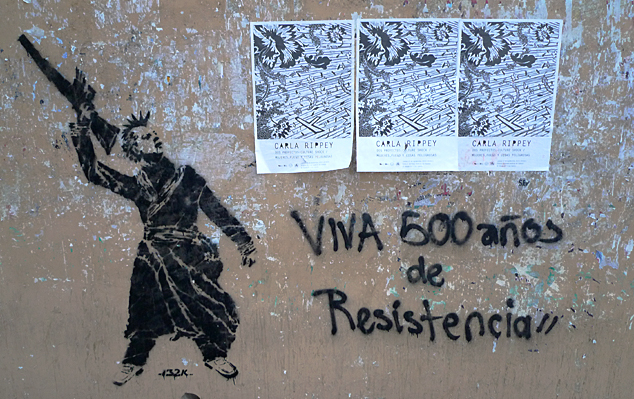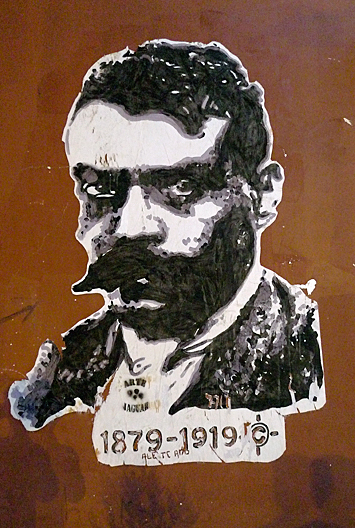 After surviving a little hit and run into our rental car that left Jean-Pierre angry but unhurt, we were upset, but feeling sure that our American Express would cover it after perusing their website (Wrong! Not in Mexico...future travelers be warned!), one entire day was devoted to packing, shipping and last minute purchases and then we were back on the road early the next morning to return to Mexico City. The car was too full to risk the usual foray into Puebla this time. I was thankfully distracted from the scariest parts of the barrancas between Oaxaca and Puebla (please note the clouds that are below us!) by this interesting sight; I'm afraid these little piggies were most definitely going to market:
We had fine driving weather once again, thankfully, and so I entreated Jean-Pierre to stop for a minute so that I could catch El Pico de Orizaba in all of its' splendor; but, no, instead I give you a shot through a closed car window speeding by at 120 km per hour (thank goodness for photoshop).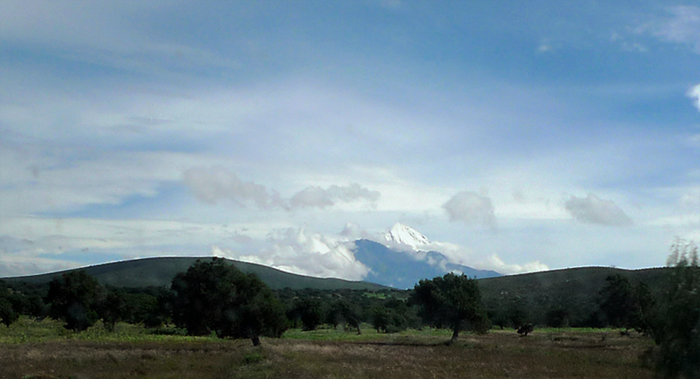 We indeed made it back in record time and proceeded to run around the mercados in a mad dash to complete our wish lists. During one of those days we were astounded to find another calenda of Oaxaqueños in full swing in the middle of a little street mercado near our hotel! They certainly do bring a party wherever they go, and here is a splendid example of some of their most famous and magnificent regional dress (and you can find examples of these for sale in the store, also!) and of course, the incredibly beautiful women who wear it with such grace: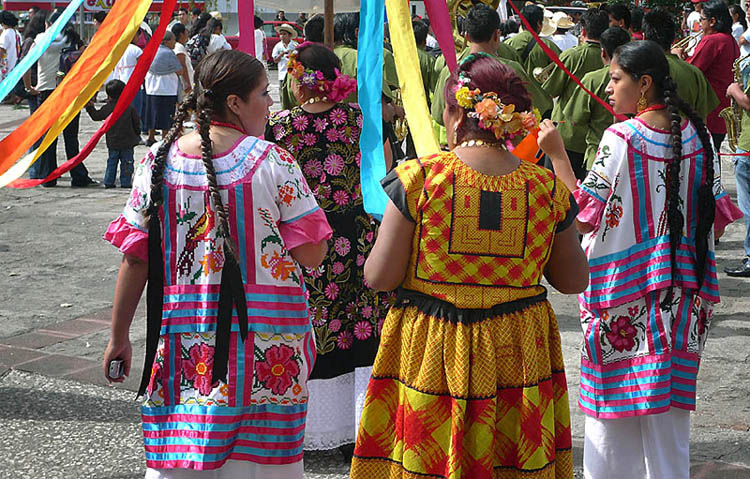 It was that evening that two kinds of flu simultaneously began to set in for me! The following day was another mad dash to several more mercados for more specialties and more packing and shipping arrangements. We neglected to visit with several family members, being both short on time remaining vs. tasks to accomplish and feeling lousy. We made it home feeling exhausted, returning to the store only to find the computer there was full of trojans that took a week to eradicate, while Jean-Pierre went right back to work on another punishing film schedule for a feature in West Virginia. And so now you know why we've been incommunicado for so long! We don't usually provide travelogues but this was a special journey in so many ways and we just couldn't wait to share some of the details with you, albeit two weeks late! It has not escaped our attention, however, that Dia de los Muertos is just around the corner, and we'll be in touch very soon to let you know all of the details for our commemorations on November 1st and 2nd! Until then...hasta la proxima vez.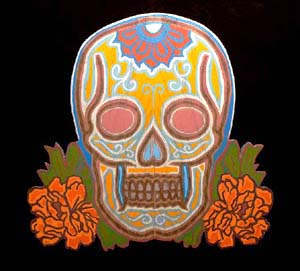 Mexico Lindo Home