¡Hola, dear Friends of Mexico Lindo! Valentine's Day is fast approaching, and we have some great gift ideas for you, like the irresistible tin hearts shown above, ranging in price from $6-8. Pictured below are three unique choices: on the left, a pewter heart with natural flowers, measuring 3½" x 3¾",for $20. Center, a heart box in black Oaxacan ceramic, measuring 3½" x 3¼", for $18. On the right, another heart shaped box in the famous stoneware of the Servin family, measuring 4" x 4", for $40.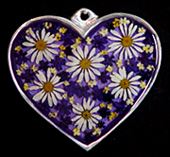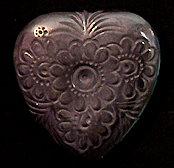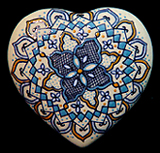 Of course some prefer their hearts in chocolate...but fear not, we've got you covered with a deluxe handmade Belgian chocolate sacred heart for $20 (below center). Or if you would like to give your sweetheart just one perfect little chocolate, like the mini Oaxacan chocolates de Soledad that we carry for just .25 each, why not place it inside of a tiny one-of-a-kind adorned box ?(below, left and right)These are Mexico Lindo originals, and they are priced at $14.
Of course, you could always place some jewelry inside, instead: like another Mexico Lindo original: heart milagro earrings with Swarovski crystal, for $20 (below left). A pierced tinwork mirror with a heart shaped center, measuring 16 1/2" x 13" , is sure to please for $35 (below center). Collectors of fine Oaxacan Barro Negro, or black pottery, will be familiar with the work of artist Adelina Pedro Martinez. We have one perfect heart, complete with two cupids. This measures 71/2" x 7" x 3" and is $60. We have a few varieties of calavera bride and groom novios, so be sure to stop by and see for yourself.
A quick note to our friends from out of town who may be interested in purchasing any of the items shown on this page: email Lisa or call our toll free number (877.422.1357) to arrange a credit card purchase by phone. And last, but certainly not least, we wanted to let you know about a new Pittsburgh Directory for the Latino community; this is the first of its' kind and the culmination of much hard work and coordination between the Hispanic Center and many other individuals and organizations. This valuable resource is free and you can pick up your copy at our store.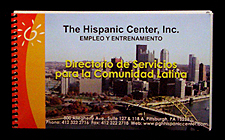 Now that we've recovered from the holidays, it's back to work on the site updates. We'll be sure and let you know when the next additions are ready for viewing. ¡Here's hoping that everyone has a fabulous February, full of lots of love!