News ~ Noticias ~ March 2008
¡Hola, dear Friends of Mexico Lindo! This month we'd like to tell you about a few unique and elaborately adorned items that we adore: From left to right, below: Ceramic plate from Xalitla, Guerrero, and silk clutch purse from Pineda Covalin, both decorated in the incomparable style of the rare black and white papel amate from that village. The plate is $42 and the clutch is $136. To Inquire about special ordering large panels of extra fine black and white papel amate or to request closeups of any of these items, feel free to call our toll free number (877.422.1357) or email Lisa with your request.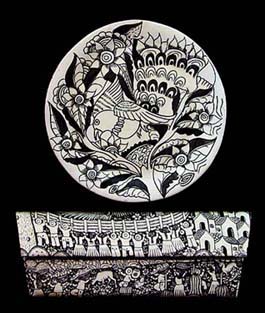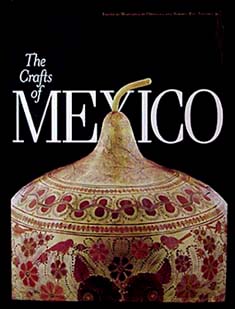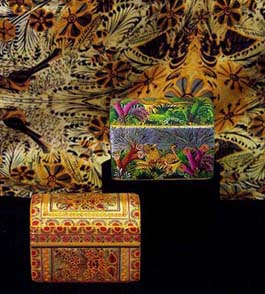 The two small lacquered boxes on the right ($70 each) are the work of renowned artist Francisco "Chico" Coronel, from Olinala, Guerrero. Chico is famous for his unique technique of incorporating gold and silver leaf to create some of the most sought after treasures in all of Olinala; so famous, in fact, that Pineda Covalin designed a silk shawl depicting his work,(shown behind the boxes, $165) and an example of one of his painted gourds is featured on the cover of The Crafts of Mexico, the book shown center, $45.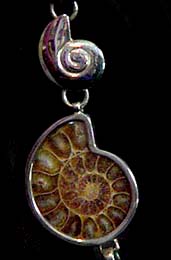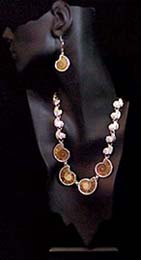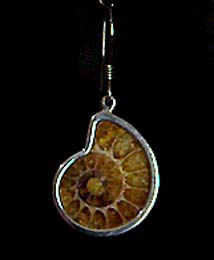 Above: The trend toward unusual colored stones and a variety of organic materials mixed with silver remains strong, and here you see a one-of-a-kind showstopper, made for an equally extraordinary woman. This handmade set is by premier Taxco artist Ezequiel Tapia, in sterling silver with ammonite fossils. The necklace measures 18" in length and is $600 ; the earrings are $118 .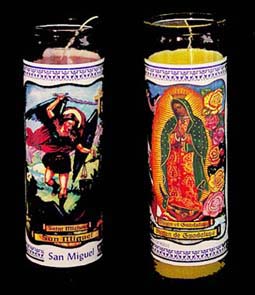 Just in time for Holy Week, our supply of 7-day Santos bilingual prayer candles has been recently replenished and while we were at it, we ordered some blank candles in order to make some of our very own design. The first two in what will be a series based on Aztec, Mayan and other Mesoamerican deities are available now, featuring Quetzalcoatl and Hunab Ku. The mass produced votives are $5.75 and the Mexico Lindo originals, which are made individually, are $8.95. If you want a complete list of available saints or shipping estimates for out of state customers, please call or email Lisa. These are heavy glass votive containers and so shipping should be individually estimated so that we can give you the best possible price.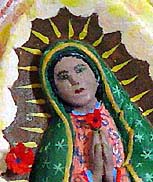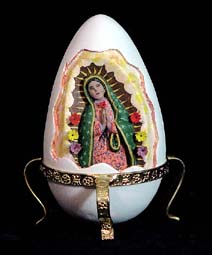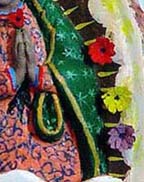 Finally, for those in search of an Easter egg unlike any other, we thought we should mention this heavenly miniature wood carving of the Virgin of Guadalupe by Maestro Gabino Reyes of La Union Tejalapan in Oaxaca. This measures 3 ¼ x 2" and is $120.
¡Wishing all of you a magical spring!