¡Hola, dear Friends of Mexico Lindo! This month we want to tell you about a few special local events and items that may interest you, especially if you live in Pittsburgh:

WRCT radio in Pittsburgh invites you to experience BARRIO LATINO – News, politics, local, social, cultural, recreational events, sports, and the best Latinamerican music. Barrio Latino airs on Thursdays from 6:05 - 7:00 pm (Eastern Time). Listen via Internet here or call in live to 412. 621.9728. Barrio Latino audio files can be found here. Send any special announcements that you would like aired to: martham@pitt.edu, BarrioLatinoWRCT@gmail.com or call 412-521-8651.
---
Quiet Pictures of Brooklyn, NY are very pleased to announce the premiere of their first production, Roberto Clemente, for PBS's award-winning history series,American Experience. Roberto Clemente was not the first Latino to play in the majors, but he was the first Latino star to have a clear and lasting impact on the game of baseball. As an outspoken and at times controversial player, he helped to shatter stereotypes about Latinos and paved the way for the next generation of Latin American and Caribbean ballplayers. In an era before players had handlers and press agents, Clemente was a bona fide humanitarian and activist. "If you have the chance to make things better for people coming behind you, and you don't," he famously said, "You are wasting your time on earth."

The broadcast premiere is on Monday April 21st at 9:00pm ET, after which a Spanish-language version will be available for free viewing online here. Golden Globe Award-winning actor Jimmy Smits narrates.

We may be a little bit biased in telling you about this special, in part because Lisa's sister was a research volunteer on the project on behalf of the Carnegie Museum of Arts' Teenie Harris Archive Project, and also because Pittsburgh author Jonah Winter also wrote a wonderful childrens' book about Latino Baseball Pioneers and Legends, including Clemente, called ¡Béisbol!, which you can find in our store, or order directly from Amazon.com:
---
On Thursday, May 1st there will be local commemoration of the 3rd Annual March and Boycott for Immigrants' Rights throughout the US, in conjunction with traditional May Day observances around the world. The Pittsburgh march is being organized by Pittsburgh Friends of Immigrants. If you are able to print out this pdf flyer to help spread the word, please do. The store will close at 2:30 p.m. on that day to participate, as well. Hope to see you there.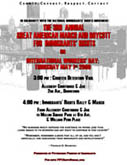 ---
As Cinco de Mayo (May 5th) approaches, it is always a good time to refresh our understanding of it and reflect on it's meaning. As many of you know, it's also the day when we remember the birth of our physical store, which is usually celebrated with an Open House and some of Jean-Pierre's delectable cooking for all to sample. This year marks our 4th year in Squirrel Hill, but it also could be known as the year when the movie business returned to Pittsburgh with a vengeance, and as Jean-Pierre has been working non-stop on one feature film after another since last summer, he will be too busy to do the honors this year. We hope that you won't be disappointed and will join in other local celebrations. Check out the Latin American Cultural Union's website for contact info to inquire about details of their celebration for this year. Many of you have been loyal friends and customers for even longer than four years and we want to thank you, as always, for your support and encouragement! We appreciate each and everyone of you.
---
At this point, you may be thinking to yourself, "what was up with those frogs at the top of the page?" One of our wonderful customers informed us that frogs are often exchanged as gifts for Passover, in remembrance of the plagues that preceded the liberation of the Israelites. Since Passover will arrive at sunset on the 19th of April this year, we thought we would remind you that we have some very whimsical carved and painted wood frogs from Oaxaca to choose from, $17-18.

¡Until next time,Saludos!