News ~ Noticias ~ May 2009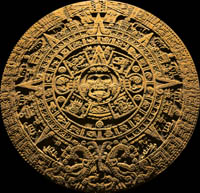 ¡The 5th anniversary of the Murray Avenue store is on Cinco de Mayo...
but this year that date falls on a weekday, so drop by a few days early and and celebrate with us!
Open House:
Saturday and Sunday May 2nd and 3rd
2:00 ~ 5:00 pm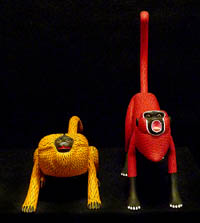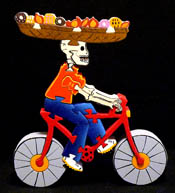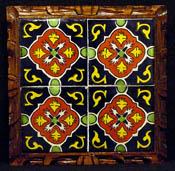 We've been busy ever since our return from Mexico in March, so in addition to telling you about the Open House for our 5th anniversary, we have some other items to discuss as well. The store is full of new and wonderful things....some examples pictured above: Left, a Golden Tamarind monkey and Red Howler monkey, both by A. Playas, $148.00 each. Center: Freestanding wooden jigsaw puzzle /sculpture of bicycling calvera, $90.00. Right: Trivet in wood and Talavera tile: $48.00.

The spectacular new Childrens' Hospital of Pittsburgh of UPMC will be officially open on May 2nd and visitors may recognize some of Mexico Lindos' artwork in their diverse and innovative permanent art collection. Our thanks to Dr. Andrew H. Urbach of CPH and Gayle Irwin of James Gallery for their initiative and dedication to working with many local artists and organizations to help make the new facility a beautiful healing space that will also inspire a future generation of artists .

Above: Beaded Huichol Virgin of Guadalupe, $129.00

Jewelry lovers will enjoy some of the newest additions to our ever expanding sterling silver collection: Below left, turquoise frog pendant/pin combination, $148.00. (collar priced separately) Double turquoise dolphin cuff bracelet. $195.00. Center: a substantial turquoise earring, bracelet and necklace set , $641. Right: Another pin/pendant combo featuring a replica of Diego Riveras' Nude with Calla Lillies and wooden frame, $88 (collar priced separately).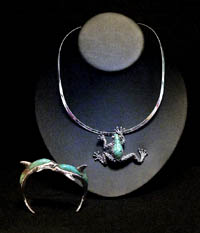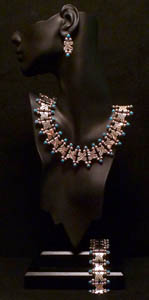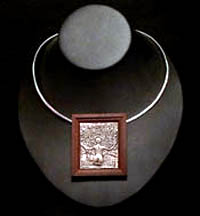 Above, a ceramic platter painted in the style of papel amate from Xalitla, Guerrero, $75.00
A quick note to our friends from out of town who may be interested in larger views, measurements or purchasing any of the items shown on this page, either email Lisa or call our toll free number (877.422.1357) to arrange a credit card purchase and shipping by phone.
You can see some great shots from the Anthropology Museum on our Facebook Page. Please be sure and become a fan of the store if you would like to see some special content from time to time that you may otherwise miss out on.
¡Here's hoping that everyone has a spectacular Springtime!