¡Hola, Friends of Mexico Lindo! As we say goodbye to summer (where did it go?) this month, we want to tell you about some of our favorite finds from our recent buying trip for the store, as well as about a few imminent local events of interest to Pittsburgers. As always, new Oaxacan woodcarvings were at the top of the list, and we're working on pictures of all of the new arrivals now for a site update. Those who live in the vicinity should stop by and see for themselves. Pictured above, a selection from those being shown in the store window right now.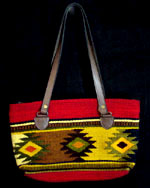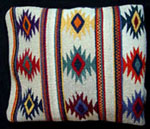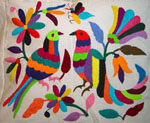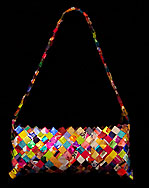 Our trip included a productive visit to Teotitlán del Valle for a few of their sumptuous rugs and other treasures, including some wonderful purses and pillowcases in classic Zapotec styles. We were happy to find pillowcases made from the famous Hidalgo bordados which have been so popular in the store as runners and hangings. And we have restocked the always popular recycled wrapper purses in several sizes . Jewelry lovers will all be happy to see some stunning new selections, including gold earrings from Iguala and some beautiful pieces incorporating the esteemed pottery of Mata Ortiz. Pictured here is a pierced -work choker that will always be in fashion. Of course, there are many new items in nearly every category of artesanias that we carry: lacquerware from Olinala and Patzcuaro, masks, tin work, Talavera ceramics, Huichol art , nichos, barro negro, ceramics of Izucar and Metepec, papel picado, clothing, t-shirts and other textiles, including the beautiful classic Chiapas weaving shown in detail at the bottom of this page.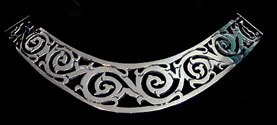 For Pittsburghers, we have some local events that we want to share with you:
In celebration of Hispanic Heritage Month, the Latin American Cultural Union, LACU, will present a concert by David Haro, renowned singer/songwriter from the Mexican state of Veracruz, on Saturday, September 20 at 8 p.m. in the Henry Clay Frick Fine Arts Auditorium in Oakland, across from Carnegie Library and the new Schenley Plaza. Tickets are available on the LACU website.
We will be closed on Saturday,September 27th to participate in the University of Pittsburghs' 29th Annual Latin American & Caribbean Festival, sponsored by the Center for Latin American Studies. This is always a fun event for all involved and so be please be sure to stop by for food, dancing, demonstrations and plenty of tempting crafts. This year's guest artist will be Lula das Vassouras of Brazil, who specializes in creating masks for Carnival.
El Centro Hispanico (The Hispanic Center) invites you to the Diversity SoccerFest 2008. This event will be on Sundays September 7, 14, 21, 28, October 5, 2008 from 9am to 5pm. The games will be at St Paul's Seminary Fields, 2900 Noblestown Road, Crafton PA 15205. Lots of fun extra activities are planned in conjunction with the games. If you have a team and would like to play call 412-322-2717 or email rbelferman@pghhc.org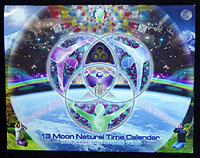 For those who are interested in the 13 Moon Calendar Change Peace Movement, the New Year was celebrated on July 26th, and we have a limited supply of calendars for you. Founder of the Foundation for the Law of Time , Dr. José Argüelles, has said: "It should be noted that the 13-Moon/28-Day calendar is a perfect solar-lunar measure; that is, it uses the even, regular lunar cycle of 28 days as the standard of measuring the 365-day solar cycle of the Earth. The balance of solar and lunar may also be taken as symbolic of human psychological characteristics and their balance or imbalance."