Courage And Resistance In Oaxaca And Mexico City

It began on May 15 this year when teachers belonging to the 70,000 strong National Union of Education Workers in Oaxaca, Mexico took to the streets for the first time to press their demands to the state government to address their long-neglected needs. They included restructuring teachers' salaries, improving the deplorable educational infrastructure forcing teachers to conduct classes in laminated cardboard shacks, a lack of books and other educational materials and providing food for the many impoverished children who come to school each day hungry.

Mexico's adherence to neoliberal Washington Consensus policies also added to the country's growing dependency on capital inflows that includes "hot money" free to enter and leave the country's deregulated financial markets. It led to an unsustainable current account deficit and collapse of the peso in early 1995 causing the worst depression in the country in 60 years and far greater impoverishment of the majority of the Mexican people. Those conditions still affect most Mexicans, they're not getting better, and there's a growing discontent and anger because of them. It's leading to acts of resistance and rebellion against a system of governance that's enriched a small minority of the country's elite (a handful of them to obscene levels of wealth) at the expense of the majority poor sinking deeper into poverty and the misery from it. It's playing out now in the mass-demonstrations in Mexico City's vast Zocalo Plaza de la Constitucion (where the country's first constitution was proclaimed in 1813) in the wake of another stolen presidential election and in the streets of Oaxaca where teachers, other working people, and many organizations and groups in solidarity with them are encamped and demonstrating daily for the rights they deserve. It shows that ordinary people anywhere will only put up with so much for so long before demanding change. In the Mexican streets today, it just remains to be seen how far these acts of resistance will go and what successes, if any, they'll have.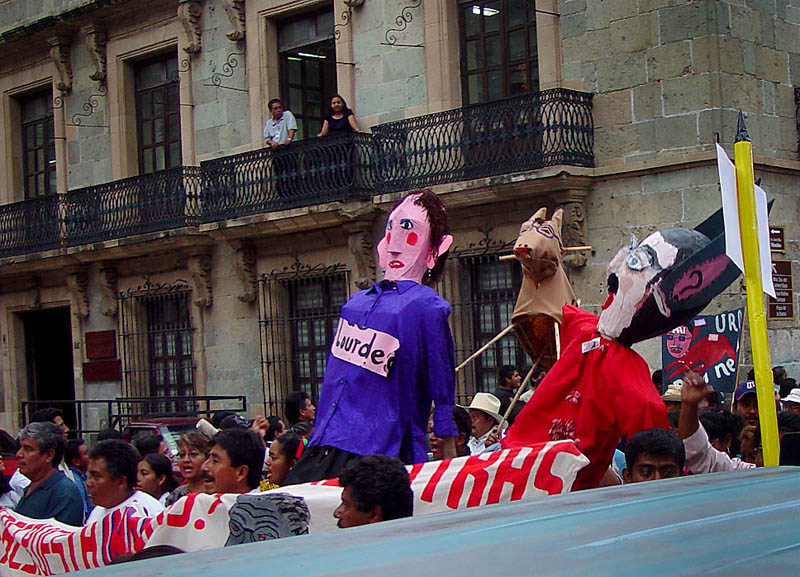 The Spirit of Resistance in Oaxaca
Back in May, demonstrating teachers presented their reasonable demands to Oaxaca's Institutional Revolutionary Party (PRI) Governor Ulises Ruiz Ortiz (known as URO) who rejected them out of hand. A week later on May 22 the teachers went on strike and set up a tent city in an area covering 34 city blocks in the colonial downtown area. This was the 26th consecutive year Oaxaca teachers had demonstrated demanding redress for their grievances. In the other years, the teacher action lasted a few weeks, a modest compromise was eventually reached, and things returned to normal even without satisfactorily resolving fundamental problems that always remained. Not this time, however, as events have played out. Negotiations began but after nearly three weeks produced nothing. The teachers rejected Governor Ruiz Ortiz's claim that he had no resources to meet their demands. In response, they blocked government offices, city streets and highways, tollbooths, access to the airport, caused the cancellation of the Gueanguetza cultural festival, and brought the important tourist industry to its knees causing over 1000 hotel workers to be laid off. They also held marches obstructing traffic through the downtown area and blocked construction projects on the Cerro de Fortin that overlooks the highway entering Oaxaca from Mexico City. The frustration is clearly showing among Oaxaca's merchants, restauranteurs, and hotel keepers who've announced a one-day strike on September 1 in protest and to demand the government end the strike that's cost them millions of dollars and closed down the city's lifeblood tourist industry.
Back on June 2, things began to intensify as thousands of other working people and representatives from Oaxacan organizations joined in solidarity with the teachers to march against the state government and Governor Ruiz Ortiz. They repeated it again on June 7 in another huge peaceful march numbering about 120,000 in which student and parents' groups, other union members, and representatives from socialist and non-governmental organizations (NGOs) from Oaxaca and other states joined with the teachers to help them press their demands.