Courage And Resistance In Oaxaca And Mexico City
excerpted with permission from an article by Stephen Lendman of Countercurrents.org

So far everything was peaceful, as in the past, but all that changed on June 14 when state police entered the compound where the teachers were camping. They had riot shields, fired tear gas at the people there, and were aided by an overhead police helicopter that also dropped tear gas canisters on the crowds that by now were raging. The police also destroyed or burned nearly all the encampment shelters and disabled Radio Planton that had been broadcasting information to the eople from the main square since the demonstration began.
The teachers took none of this lightly and fought back as best they could including tearing up cobblestones to throw at the police and setting police cars afire. After some hours they managed to regain the upper hand, but from this action a precedent had been broken of short-lived peaceful actions each year followed by government obstinacy and in the end a modest compromise. For the first time ever, this strike action became militant, and it showed two days later on June 16 when an astonishing 300,000 - 500,000 people marched again (in a greater area of 1 million people) outraged at how they were treated and demanding the immediate resignation of Governor Ruiz Ortiz who again ignored them. It was clear this was becoming more than just another strike for better pay and working conditions. It had grown to much more than that to include Mexico's long history of authoritarian rule for and by the rich and powerful with little attention given to addressing people needs.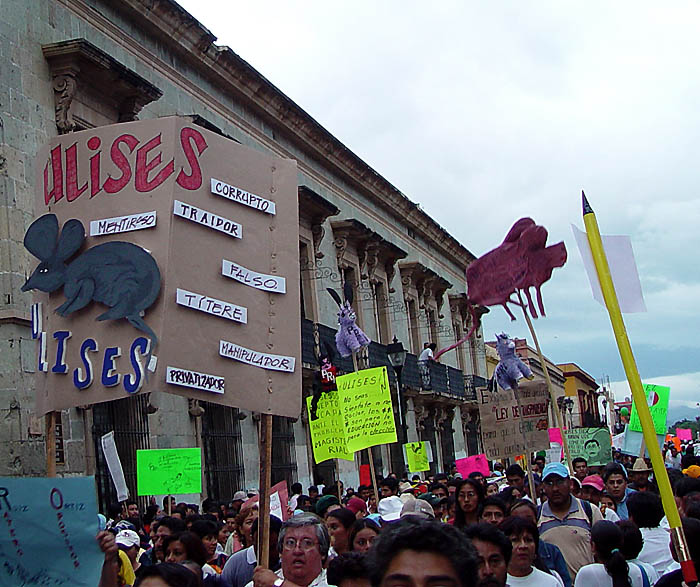 A clear show of common determination and defiance of state authority then happened early in July when the teachers, other unions, indigenous peoples, religious groups, NGOs and others from all across Oaxaca state bonded together to form the Popular Assembly of the People of Oaxaca (APPO) declaring this to be a citizens' assembly taking over as the governing body of the state. APPO set up encampments outside all state government buildings including the legislature and governor's offices closing them all.
So far though, there's no resolution in sight to the confrontation and no clear idea whether there will be one soon or what it will be when the current strife eventually ends. It's now been ongoing for over three months, has erupted in violence leaving two people dead and has gone well beyond the demands of the teachers who began it hoping, as in other years, for a peaceful solution. It wasn't to be and now it's closed off highways and the schools, crippled the state's tourist industry, caused physical damage in the city, and polarized the people en masse against the Oaxacan government. The teachers and other demonstrators showed it by seizing government offices forcing the governor and officials to work out of hotels and then other makeshift facilities when demonstrators warned hotel mangers they would peacefully take over the ones allowing state officials to hold sessions there.